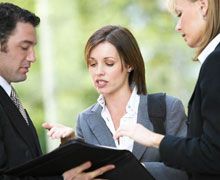 Business Continuity
What will happen to your customers if your call center has an emergency outage? How much downtime can your business afford? If the telephone is at the heart of your customer interactions, Ceequence's Business Continuity Services enables your business to continue without missing a beat, 24x7x365.
Recovery services
Ceequence's call center works just like your own call center. Your customers cannot tell the difference once your agents are logged on to the system. Helping ensure that your customers can reach your company is why you need Business Continuity Services from Ceequence. These comprehensive services fill the gap should there be a service interruption at your call center.
At our facility, you'll find the computer systems, peripherals, network connectivity and communications equipment needed to help your business recover as quickly and efficiently as possible. Combine that hardware with highly skilled operational, technical and administrative personnel and you have an unbeatable combination for both exercising your recovery plan and rebounding from an unplanned outage. Our exemplary facilities can even exceed your recovery requirements.
Some of the benefits of having this type of service are the following:
Use of Recovery Center

You simply re-deploy your office-based people to our fully air-conditioned office facility equipped with PCs, phones, and a server area, as well as advanced telephony switching and communications capabilities via Leased lines, PABX/ACD with Redundant UPS and Diesel generators for Power backup.

for 30 to 90 days following invocation.
Disaster Rehearsals

Working with your staff, we help simulate and manage a realistic full-scale continuity rehearsal to determine whether your program can achieve your predefined Recovery Time and Recovery Point Objectives.

with expert onsite technical assistance.
Use of Recovery Center facilities including meeting rooms, fax, copy service, food service, secretarial assistance and Logistics assistance.
Security safeguards including 365x24 central security, assigned facility coordinator, Access controls, and private work areas.